Industries that regularly work with oversized goods know all about out of gauge cargo and the intricacies of choosing a cargo container to suit their needs.
However, companies new to working with out of gauge cargo may not know where to begin. 
Suppose you move through the process the right way, from choosing the correct container to adhering to global shipping regulations. In that case, you can better control the process — and the cost — of working with out of gauge cargo. 
What Is Out of Gauge Cargo?
Out of gauge cargo, or OOG cargo is cargo that is too large for standard shipping containers. 
The most common shipping container lengths are 20' or 40'. A wide range of goods would then be considered out of gauge, from extra large machinery to car trailers. 
Some industries may find a need for out of gauge transport based on the weight of the cargo rather than just the size. Some cargo types require special care in shipping and handling. Specialized machinery typically handles out of gauge cargo shipments. 
Out of Gauge Transport: Things to Know
When working with out of gauge cargo, there are various factors for a shipment to be successful from start to finish. Planning a load of out of gauge cargo assumes that you're working with cargo that you can't consolidate, and you've already done all you can do with shrinking down the size of your large shipment. 
Expect Higher Costs
The shipping industry has already been dealing with rising costs. Out of gauge transport is often even more expensive. Shipping out of gauge cargo will involve less flexibility, and prices are often higher. 
You may be limited to one container type over another.  The cost of shipments might limit the availability of those containers due to the cost of shipments. This is especially true when containers aren't stackable.
Once you exceed specific dimensions on cargo, that can also mean additional fees, particularly if traveling by road at any point in the journey. You must consider the logistics of shipping OOG cargo carefully. Size and weight restrictions on truck cargo loads can vary from state to state, even city by city.
Details Matter
Out of gauge transport is about more than getting a shipment from one place to another. It's about planning how to do so well before a shipment is expected to go out. Working with a logistics provider with expertise in freight forwarding services is the ideal case scenario, as they can help you plot out your shipment in the most efficient way. 
You'll still need to ensure you provide your logistics team with detailed dimensions for your cargo needs, providing technical drawings where necessary to ensure they handle your cargo correctly. If any special handling is required, that team will ensure that your shipment is leaving from a site that can safely and effectively manage your OOG cargo.
Your provider will use the information you provide to ensure you're using the correct containers, applying for the appropriate permits and paying attention to any site capacity requirements. 
Domestic vs. International Shipping
On top of domestic weight requirements for road transport, shipping out of gauge cargo internationally must keep customs clearance in mind. Rules and regulations around shipping, in general, can vary from country to country, port to port. Still, you'll always have the added burden of navigating customs clearance procedures with global shipping. 
A detail-oriented approach is extra essential when dealing with the global shipping of OOG cargo. You'll need information at the ready about container and cargo dimensions, the exact weight of your cargo and the ideal international route that will get your shipment to where it needs to go on time.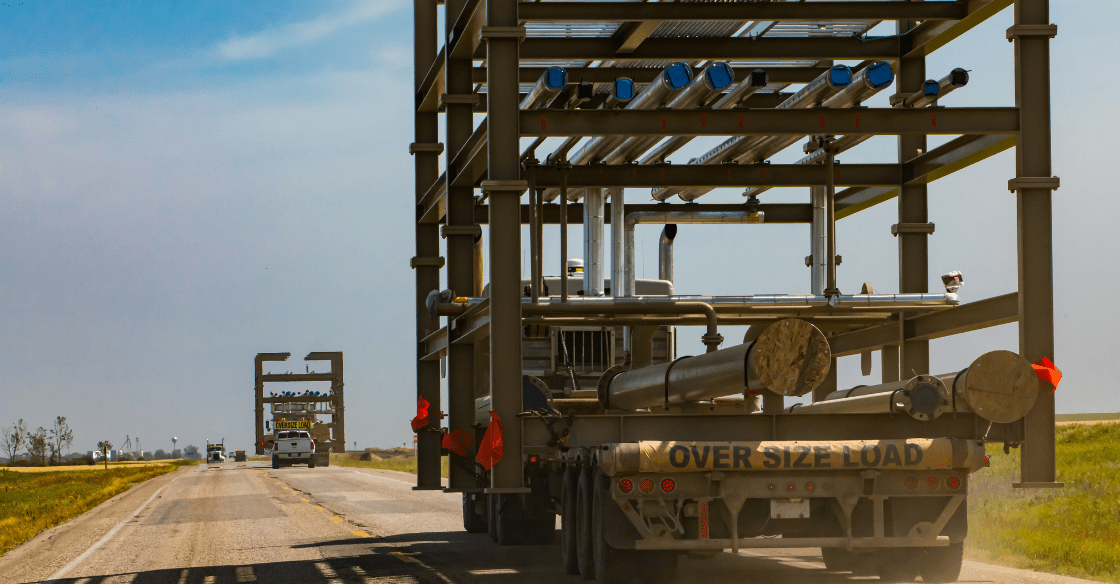 OOG Container Types
There are several different OOG containers to choose from, depending on your project, your budget and final destination. The three main container types below are used most often for OOG transport.
Flat Rack Containers
Flat rack containers have open sides that make them ideal for sideloading. They are typically open at the top and suitable for heavy cargo that can be loaded inside with a forklift or a crane. You can also arrange these containers side by side if the cargo is too large to fit on one. 
Open Top Containers
Similar to flat rack containers, open-top containers can be loaded from the top. They are ideal for awkwardly-shaped cargo that would still require container sides, such as lumber. Open top containers will often include a tarp or other removable cover for transport. 
Flatbed Containers
Flatbeds, or platform containers, are precisely what you likely picture: a flatbed with no walls. They're open on all sides for cargo that is too unwieldy for enclosed containers and can be loaded up from all sides. They are the most manageable OOG containers to ship empty, as shippers can stack them one on top of another for efficient transport.
In addition to the three OOG container types described above, some companies may also use roll-on/roll-off (RORO) shipping services for wheeled cargo or cargo easily dragged from a container on a ramp. 
Navigating Out of Gauge Transport
Knowing the basics of out of gauge cargo still leaves a complicated process. A logistics company like HLOG can help you navigate that process with attention to detail to move your cargo efficiently and successfully. 
Planning is key when working with out of gauge shipping, as any errors or missed deadlines can cost your company time and money. Get a quote today for a customized solution.