There can be some additional stress involved in jewelry shipping. Shipments are typically higher value, and you want to avoid theft or loss to the best of your ability.
So how do you ship jewelry safely?
To ship jewelry safely, you'll need to follow these steps for packing and shipping to ensure that your package arrives without incident. Use this guide to pack and ship jewelry safely and efficiently, even if you're shipping in bulk.
Jewelry Shipping: The Basic Steps
Follow these basic steps to ship jewelry, including what to ship jewelry in to keep it safe and secure.
Organize your shipment(s)
Even if you're only making one bulk shipment, it's essential that you know whether there are any additional restrictions associated with your jewelry shipping.
International shipments may require additional legwork, for example. That includes following customs rules and paying tariffs depending on where your shipment is going. A third-party logistics provider can ensure that international jewelry shipments are packed, valued, and shipped correctly to avoid delays or fines.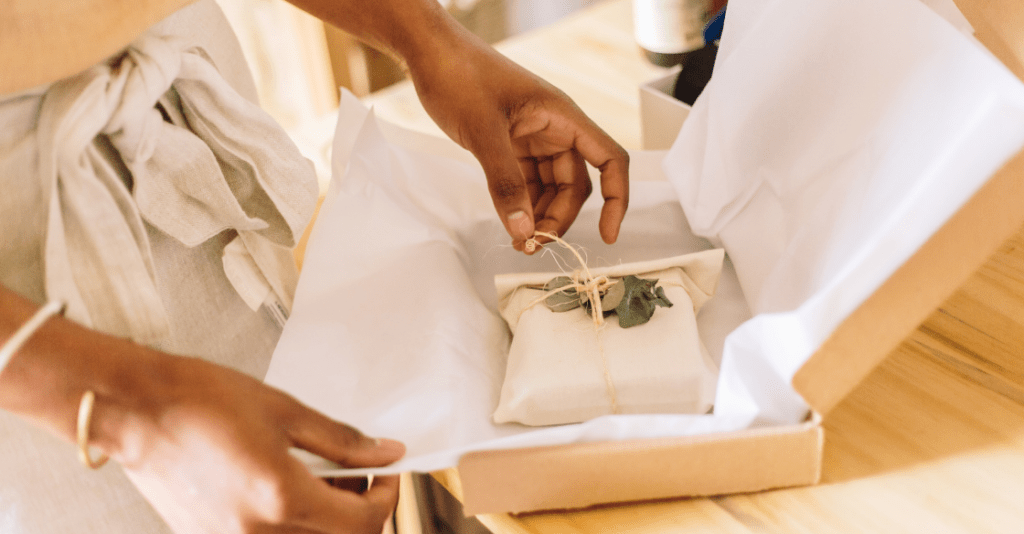 Package your jewelry securely
You'll need packing materials to keep your jewelry safe from damage and free of movement during the shipping process. 
If you're shipping more than one piece of jewelry, layer the items in between pieces of bubble wrap, tissue paper, or other separate packages within your main box. Padded envelopes and bubble mailers may work for smaller shipments.
Secure the items in baggies, jewelry boxes, or pouches. To avoid movement during transit, you want to make sure the jewelry is wrapped tightly within its packaging. When you shake your shipping box, you should not hear any jingling or metallic sounds.
Choose simple exterior packaging
If you want to use branded packaging, keep branding discreet and straightforward, even on outer boxes. Avoid any mention of what's inside the box. Otherwise, it could end up the target of thieves.
The outer box must be the right size to ensure a tight fit and meet the specifications of your shipper. Your customer will likely pay more attention to any branding on interior packaging, especially if it means their package gets to where it needs to go in one piece.
Seal your package securely
Give your package one last shake to ensure movement is restricted inside before taping it up with quality packing tape. Be aware that if you're using packaging materials from the postal service with adhesive strips, they aren't foolproof. Tape your package up anyway to secure any flaps that may come loose in transit.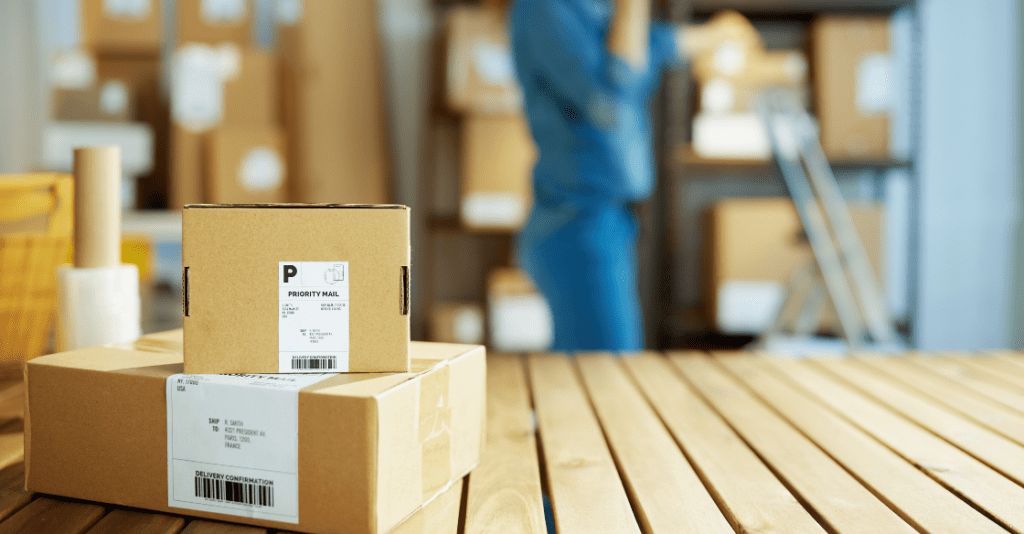 Watch your labels
Don't mention anything about jewelry on your exterior labeling. Avoid references to valuables on the outer packaging. You don't want to show that something valuable is inside that package.
If you're shipping as a small business owner and want to use decorative packaging with each shipment, that's fine. Just keep it to the interior boxes.
There may be codes relevant as part of the packaging process if you're shipping internationally, but those will go on customs forms rather than the package itself. A logistics company specializing in customs clearance will make international shipping a breeze.
Locate an appropriate shipper
Choose a logistics provider that regularly ships valuables. Big-name courier services and the postal service are usually OK with small shipments as long as the solution guarantees receipt upon delivery and insurance options. You may end up paying extra for priority mail.
If you're shipping high-value jewelry, like high-quality diamonds, you may be limited to shipping options that handle those goods. 
For example, if you use a state postal service, you'll need to ensure your package is full. You'll also need to confirm any restrictions on your desired destination. You may need to do further research if you're shipping internationally. You may also work with a third-party logistics service to identify the best shipping strategy for high-value goods.
Request a signature upon delivery
Jewelry is an item you want to ensure gets to where it needs to go. Always request a signature upon delivery to reduce the chance of claims filed for lost or stolen merchandise.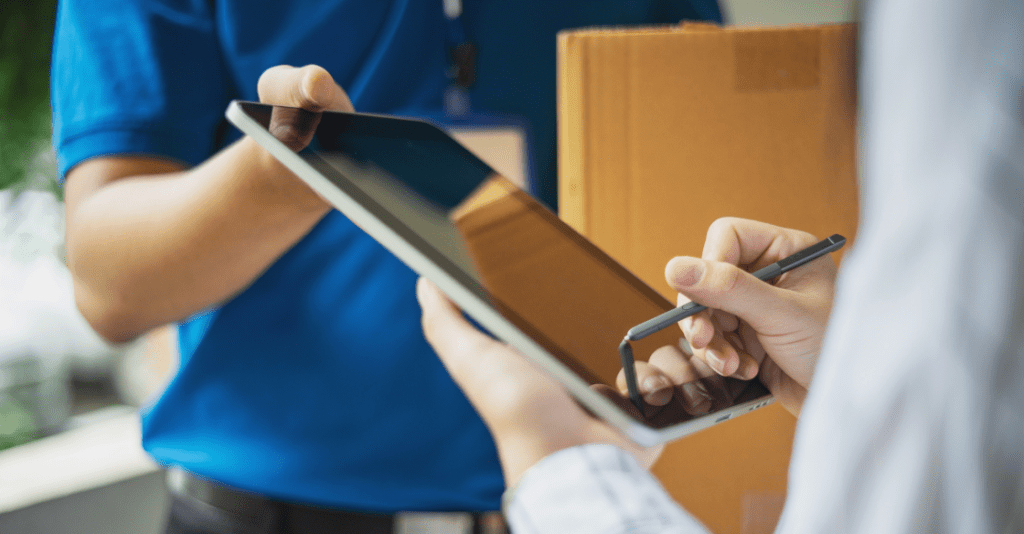 Consider insurance
Even though you've done all you can do by this point to both disguise your package and package your jewelry securely, theft can still happen. If you're shipping high-value jewelry, you'll want to consider insurance to cover possible theft or damage during shipping.
Not all courier services will offer insurance on the total value of your jewelry shipment. You may need to look to a third party for available insurance or consider a delivery service specializing in ​​freight forwarding services.
A logistics company like HLOG can assist with larger shipments, like jewelry in bulk, that need multiple transportation levels or added security.
How to Ship Jewelry in Bulk
Shipping jewelry in bulk requires similar efforts to package jewelry safely and securely, but on a larger scale. You'll still want to use packing materials within an interior box covered by a larger box. Whether you're shipping one piece of jewelry or larger quantities, you shouldn't hear movement inside the boxes. 
Choose boxes no more than an inch larger than your interior box on all sides. Proper box-sizing will restrict movement and reduce the chance that your package will arrive damaged.
You may need to choose a shipper from a more limited list with bulk jewelry shipping. You'll want to select a shipping solution without additional restrictions on jewelry in bulk. A logistics service can help you identify the courier that will work best with your shipping needs.
Work With a Logistics Company
If you're unsure about whether you're shipping your bulk jewelry in the most efficient, economical, and secure way possible, working with a logistics company can help. HLOG helps navigate international jewelry shipping by working through customs regulations and tariffs on your shipment.
HLOG has the experience you need to ensure your jewelry gets to its final destination. Contact us today for a free quote and more detailed information about your shipping needs.